GRAND OAKS TIMBER FRAMING

October 8 - 14, 2006 Workshop

It was another great week at Grand Oaks as usual.  We cut a really nice looking timber frame during this workshop and one of the students took the frame home with him at the end of the week.  Participants were from Arkansas, Indiana, Missouri, Ohio, New Hampshire and New Mexico.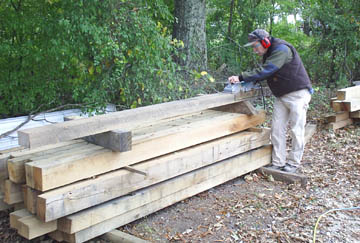 Planing a timber, getting it ready to layout the joinery work.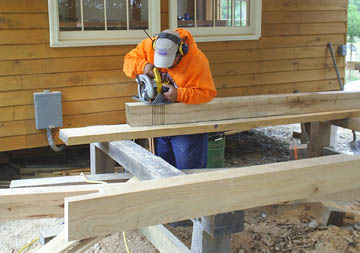 Making kerf cuts for the tenon on the post.

"...thank you for a tremendous workshop.  I learned so much more than I ever thought possible.  I had a fabulous time and got to know a great bunch of people.  Thank you for sharing your knowledge, enthusiasm, space and family with us."

             H.C., Athens, OH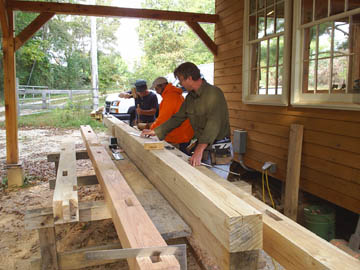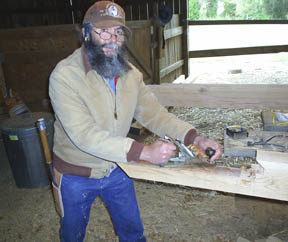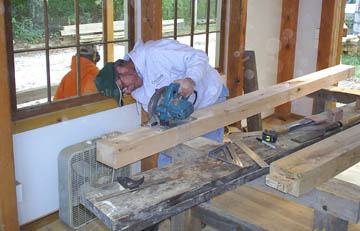 Setting the depth on the circular saw before kerfing.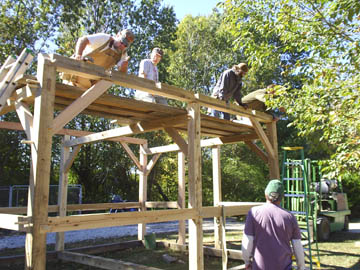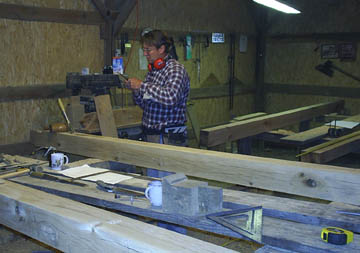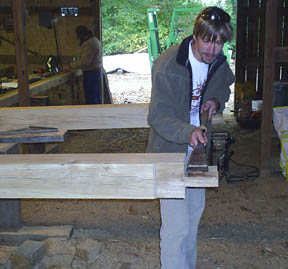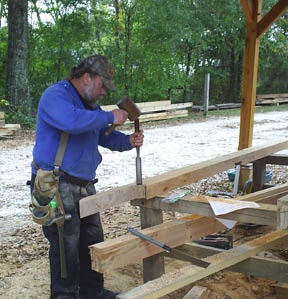 "I did so enjoy the workshop  It really helped clarify a lot of the techniques for actually building a frame... I have been wanting to attend a workshop for quite some time.  I am glad it got to be yours."

             J.L., Joplin, MO

"The way you taught the workshop was great, we learned a lot, had a good time and everything was well done including the steak dinner to celebrate the end.  Wow, again you blessed us with your teaching ability and hospitality."

                              M.R., Ruidoso, N.M.

Finishing up a rafter with a hand plane.

Chiseling out the bird's mouth on the rafter.

Getting the plate ready for trial fitting.

"We had a tremendous learning experience and wonderful time...I never miss the opportunity to show pictures of the days timber framing to all who will listen.  Many thanks to you and your wonderful family for making us feel right at home."

                              T.B., Ruidoso, N.M.

Checking the depth of the mortise.

Cleaning up the tenon with a slick.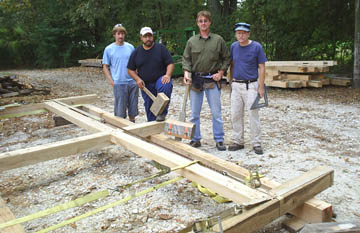 The 16' sides of the timber frame are trial fitted for the raising.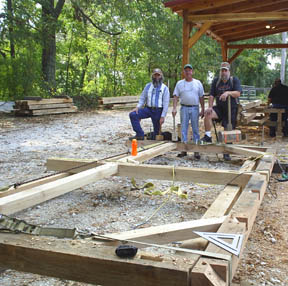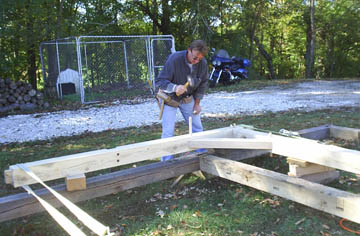 Assembling Bent 2 on the sill timber.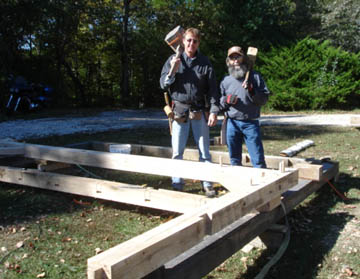 A very "Persuading" Bent 2 crew!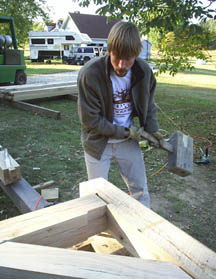 Lighting using the Persuader to bring the post and beam together on Bent 3.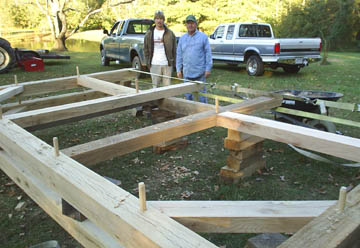 Bent 3 crew with there bent stacked on top of Bent 2.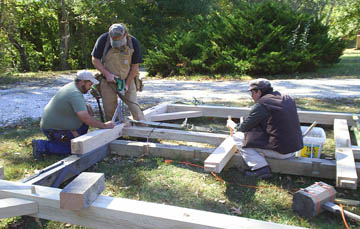 Drilling and pegging Bent 1 which will be the last to be raised.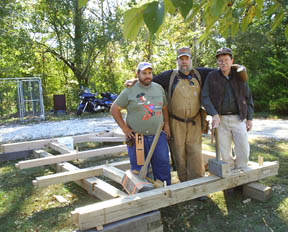 A happy Bent 1 crew with a nice fitting bent.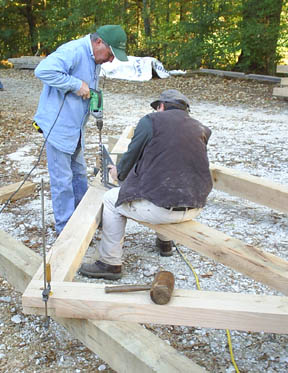 Assembling the rafters and collar tie.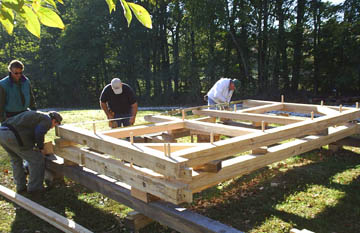 Raising day has arrived!  Making final preparations to raise the first bent.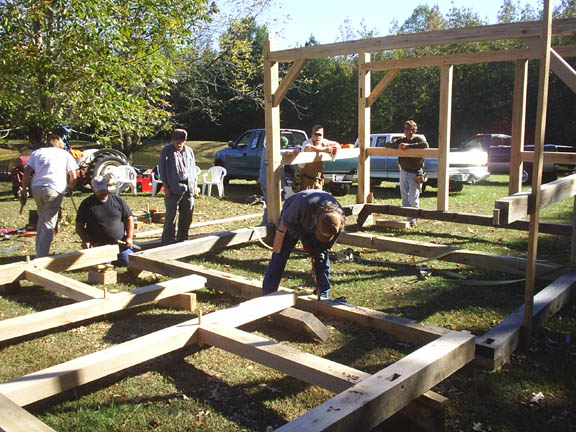 The bents go up quickly if all of the mortise and tenons have been double checked for a nice fit.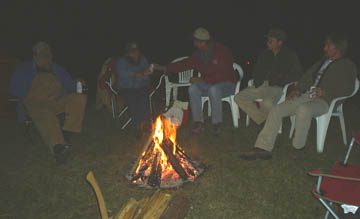 An evening around the campfire discussing those future timber framing plans.

Setting on the top plate to connect the bents together.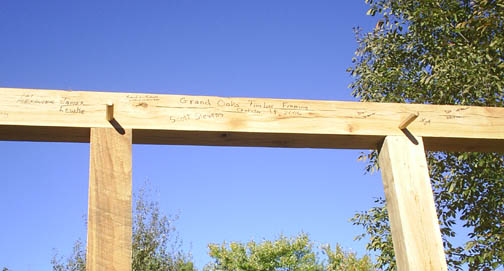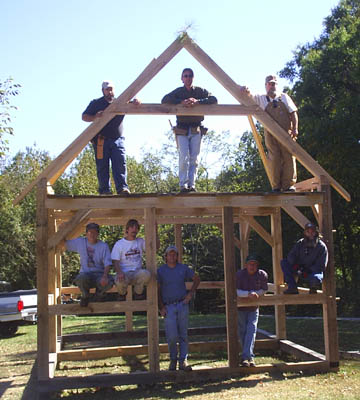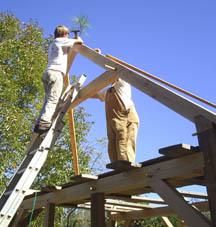 Proud, new owner of a Grand Oaks timber frame attaches the pine bough to the rafter.

Timber framing history is made again with a great new group of timber framers at Grand Oaks Academy of Timber Framing on October 14, 2006.

To purchase plans to cut this timber frame or any frame that you see on this website visit the
TIMBER FRAME STORE